In This Edition:

Event Highlights | Venues | Bhagavad Gita Discussion | Homework
Dear <<First Name>>,


The Gaur Purnima Celebration Satsang event is scheduled at Nayan Prabhu & Trisha Mataji's home on Saturday. Please join us and be a part of the event which includes Abhisheka, Kirtan, Lecture and Dinner Prasadam. Associating with devotees is essential for spiritual advancement and invokes the mercy of the Lord. Looking forward to seeing you. All are invited.

We had a great Satsang last week with Bhadra Prabhu from Alachua. We also had a very useful Natural Healing Workshop by Surapala Dasa and Krishna Mayi Devi Dasi, Thank you so much Bhadra Prabhu, Surapala Dasa and Krishna Mayi Devi Dasi. Thanks to Sudhir Prabhu and Renuka Mathaji for inviting us and organizing the events.

Hope to see you all in the Satsang programs this week.




Saturday: Tampa
Date: March 11th

Time: 5 PM to 8 PM
Experience Kirtan, Explore the Science of Self Realization from Bhagavad Gita and Vedic literature. Special Abisheka for Gaura Nitai will be performed.
Venue:
Sunday: Alachua
Date:

March 12

th

Time: 4:30 AM to 8:00 PM
Visit the Alachua Temple for Gaura Purnima Celebration Arati, Kirtan, Lecture, Prasadam and much more.
Please refer below
EVENT SCHEDULE
section for full details.
Venue:
17306 NW 112th Blvd
Alachua, Fl 32615
Contact:
Temple Office
386-462-2017


Gaura Purnima - Appearance Day of Chaitanya Mahaprabhu Sunday, March 12th, 2017
Fasting Until Moon Rise
This festival celebrates the appearance of
Chaitanya Mahaprabhu
. It is observed annually (in February - March) by
Krishna
devotees all over the world—especially in the area of Mayapur, India, the place where Mahaprabhu appeared in the year 1486.
Chaitanya Mahaprabhu is the Supreme Person, Krishna Himself, appearing as His own devotee, to teach us that we can gain full enlightenment simply by chanting the holy names of the Lord:
Those who witnessed Mahaprabhu's pastimes saw Him dance and chant with ecstatic love for God, the likes of which had never been seen before. He encouraged everyone to follow this same process. He taught that anyone—regardless of background or spiritual qualification—could develop their innate love of God and experience great spiritual pleasure by chanting the Hare Krishna mantra.
Gaura Purnima means "golden full moon," signifying that:
1) Lord Chaitanya was "born" during a full moon, and
2) The Lord blesses everyone with the soothing, moon like rays of His sublime teachings.
His followers generally observe this festival by fasting and chanting the holy names all day. At moon rise, a vegetarian feast is offered to the Lord and then enjoyed by all.

Thank you very much,
Your Bhakti Yoga Team
---
EVENT SCHEDULE:
Gaura Purnima Festival - the Holy Appearance Day of Sri Caitanya Mahaprabhu
Sunday, March 12, 2017 (fasting until moonrise)
Schedule of Events for the Day:
4:30 a.m. - Mangal Arati

7:20 a.m. - Guru Puja

8:00 a.m. - Deity Greeting (New Outfit)

8:30 a.m. - Lecture - Caitanya Lila

9:30 a.m. - Abhisheka of Gaura Nitai Deities- all participate

9:30 a.m. - Ongoing bhajans

12:00 noon - Raj Bhoga Arati

4:15 p.m. - Utthapana Arati and Kirtan

5:00 p.m. - Drama under the Pavilion

5:30 p.m. - Sri Caitanya Astatarasatta Nama Fire Yajna (Homa)

6:00 p.m. - Prasadam Feast

6:30 p.m. -

Sundhaya Arati and maha kirtan, distribution of Holi colors

7:00 p.m. - Burning of Holika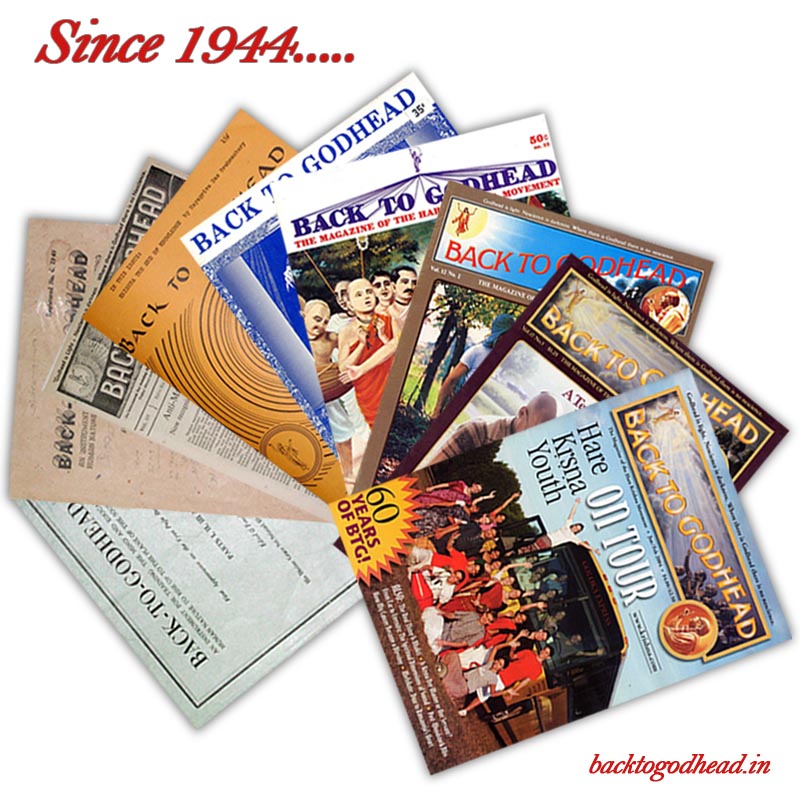 Back To Godhead (BTG) is a bi-monthly magazine which covers all aspects of the philosophy and practice of Bhakti Yoga as taught by Srila Prabhupada. Some recurring features include lectures by Srila Prabhupada, tours of Indian holy places, interviews with Hare Krishna devotees, Krishna conscious perspectives on issues of the day, excerpts from Vedic scriptures, and tips on practicing spiritual life in the modern age.

Please subscribe for this invaluable publication

here

.
The Bhagavad Gita is the essence of all Vedic literature. As part of our weekly discussions, we can learn these verses from Bhagavad Gita to supplement our learning. The recordings are perfect for teaching children also.
hare krishna hare krishna krishna krishna hare hare
hare rama hare rama rama rama hare hare